Crisis & Media Training for C-suite and Spokespersons
While you communicate with customers through digital marketing and public relations (PR), you need an effective internal communication program to inspire your people, motivate them to sell, manage challenges and crises. Our lead consultants are professional curriculum developers and trainers since the 1990s. Lead consultant Seamus was a pioneer aviation service quality consultant who subsequently developed his own service quality training program known as Enlightened Service Providers (ESP©), later customized for a national aviation services company of 2,400 employees.
Leadership training (corporate/airlines)
Sales training
Media Training and crisis communication
Customer Service training
Curriculum development (with interactive video)
The road to learning by precept is long, but by example short and effective.
Seneca the Elder
What would the good Ensign say about communications, spoken or written?
Media Training Primer™ (2 – 4 hours)
This is a succinct media training primer program for busy CXOs and executives. We will prep your leaders to be media savvy, and be ready for TV, radio, print, events, and online interviews. The short primer will end with a mock TV interview and critique. Updated for 2020 with COVID-19 and similar situations.
Selling vs Telling
The Media's agenda
Fundamental questions
Interview preparation (for print, online, TV/radio, events)
What to say and provide to the media
Interview dynamics
Working in tandem with the journalist
Difficult questions
Crisis management with CRM, TEM & TRIM (from aviation and medicine)
Crisis communication basics
Mock TV interview and critique
Crisis communication
Most people imagine a crisis to be a disaster, such as an oil spill, a plane crash, a collapsed architecture, disease outbreak causing death, etc. However, did you know that data/privacy leaks and cybersecurity lapses are the more prevalent crises? And with pandemics, companies can face new types of crises that lead to medai and reputation crises as well. This also means that ANY company needs to have a crisis management and communication program in place.
In today's turbulent world where crises abound (trade wars, pandemics, conflicts, hyper-competition, etc), you need C2C©, the approach of "Crisis To Change". Talk to us to help streamline, tweak, transform, your leadership and communication approaches to be better prepared for the new century.
A good crisis communication program must stand up to the toughest scenarios. The toughest scenarios are in an airline jet and a hospital. We adapted the best practices from the aviation industry, that of TEM (threat and error management), TRIM (Talk, Respect, Initiative & Monitor), and CRM (crew resource management) into our program. We have experienced and learned first hand through MCC (multi-crew cooperation) and jet orientation courses, to understand how pilots handle stressful situations, challenges and emergencies, using checklists, procedures, and recovery methodologies. These best practices of CRM and TEM have also been adopted by the medical industry.
IntrinSelling™ Primer – Sales Training (4 hours)
We have developed corporate sales training programs since the 1990s, for multinational corporations and emerging companies. The IntrinSelling™ Primer is your fastest route to sales effectiveness, developed and trained by our lead trainer Seamus Phan:
Can a 10-year old sell?
Mind over matter
Understanding the Behavior of Buying
Primary and Secondary buying desires
3-step Sales Cycle
Credibility in the sales proceess
What is the Greatest Motivator?
Non-Verbal Communication in sales
Power of Mimicry
Types of Customers and the Lingo
Persuasion
18-minute wonder
Case Studies (for custom training programs)
What's Next Leadership (4 hours)
In the airline industry and many critical infrastructure providers, safety is paramount. With automation and methodical pilot training, things may be relegated to machines and checklists. But what happens when extraordinary and "out-of-scope" abnormal conditions challenge pilots in the flightdeck? Do they rise up to exemplary and extraordinary leadership? This revised and improved training program, based on our earlier work "What's Next Leadership" and adapted for the airlines and corporations, with references to CRM, TEM, MCC, air safety, pilot selection and training, and pilot transition to leadership. The program is thought-provoking with the wisdom of the samurai and early kingdoms, from the works such as Hagakure, Gorinosho, Confucianism, and the Three Kingdoms. Read more at https://flightleaders.com.
The WHY of leadership
CRM and its effects
Pilot profile, assessment and selection
Psychological profile and competencies
Learning from the East (BRM™)
Historical Three Kingdoms and lessons to be learned
Leaders are warriors
Learning from 17th century classic Hagakure
Learning from 350-years old classic Gorinosho by Musashi
Power of mindfulness in leadership
Benevolent leadership that leapfrogs the ordinary
Footprint business card™
"The Human Factors session (the last session on Day 1) saw a nearly packed house held captive by Dr Seamus Phan of The McGallen & Bolden Group…;  that set the stage for Dr Seamus Phan to work magic with his delightful time travel presentation wherein he linked philosophies from Ancient China and Japan to Leadership lessons for modern-day aviation organisations." (source: Sanjay Mahendrakumar Mukherjee)

"I was at the conference and this speech was very inspiring and fun at the same time. Great performance!" (source: Capt J. Drappier)
Leadership Secrets at 30,000 Feet™ (4 hours)
Veteran airline pilot Capt Michael Caston and our lead trainer Seamus Phan, co-developed a workshop "Leadership Secrets at 30,000 Feet". The workshop is highly experiential and hands-on, where CXOs, senior business leaders and managers, can be briefed on aviation best practices, and then apply these within a realistic B737NG flight simulator, instructed by real pilots, and then synergize and integrate these ideas into running their businesses more effectively and more profitably. Read more at https://flightleaders.com.
Presentation
Pre-Simulator Briefing
Simulator session (Crew of 4, for a total group of 16)

Pre-flight briefing (SOPs, checklists, briefings)
Flight from A to B (Choice of departure/destination, day/night/weather)
Engine start (Taxi, take-off, minor problem solving)
Cruise (Problem solving, decision-making, teamwork, threats, errors, automation, etc)
Descent (Passenger handling, landing scenarios, etc)

Q&A
Other programs
Custom training program development (leadership, customer service, sales, digital marketing)
Coaching for presentations and speaking
Recruitment needs analysis
Recruitment copywriting for advertisements
Candidate personality profiling and analyses
Business plan writing
What makes us special – field experts, HRD specialists, ex-journalists, crisis communication specialists
In today's turbulent world where crises abound (trade wars, pandemics, conflicts, hyper-competition, etc), you need C2C©, the approach of "Crisis To Change". Talk to us to help streamline, tweak, transform, your leadership and communication approaches to be better prepared for the new century.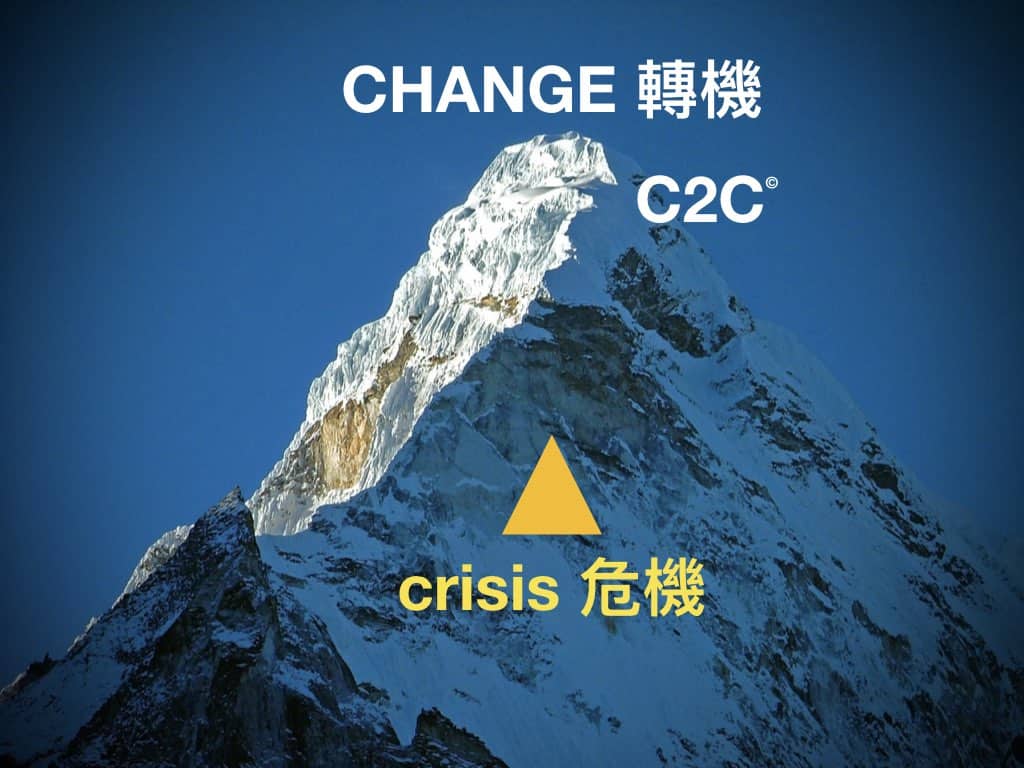 Seasoned Human Capital Specialists
We are seasoned training and development specialists who have developed programs since the 1980s for large and emerging corporations worldwide. We know human capital and talent development.
Veteran Journalists (Print, TV & Radio)
Our Spokesperson and Media Training programs are taught by veterans who have been TV and radio correspondents and journalists. Our media training programs are customized, with mock TV interviews and critique.
Crisis Communicators from 1990s to now
Our principals have braved all the major storms for the past decades, and helped many clients managed communication through all these, including:
1997, Asian Financial Crisis
2000, Dotcom Bubble (Dotcom Crash)
2003, SARS (Severe acute respiratory syndrome)
2004, H5N1 aka "bird flu"
2008, Global Financial Crisis & Global Recession
2009, H1N1 flu pandemic
2019, SARS-CoV-2 pandemic (COVID-19)
2020, Stock Market Crash (COVID-19)
Crisis Management from Aviation Methodologies
The crisis communication modules in our media training programs are also based on field-tested principles of airline pilots handling difficult situations (CRM, TEM, MCC, etc). We can adapt your corporate crisis communication standard operating procedures (SOP) for local use, or help you develop a customized program from scratch. We also design and deliver internal communication and training programs in sales, marketing, business leadership, etc.
Cybersecurity Practitioners since 1996
We know cybersecurity in the trenches, having worked with clients from the inception of the Internet and cybersecurity. We understand the problems and solutions of cybersecurity, including data breaches, privacy, changing trends, vulnerabilities, "shift left" software development and DevOps, and penetration testing. We are Web, e-commerce and cybersecurity practitioners and pioneers since 1996. We helped clients develop websites, SEO, microsites, e-commerce, and also take care of databases, sysadmin, and cybersecurity strategy and counsel. We have been on the frontlines of cybersecurity development, including co-developing our own Email Security Appliance on BSD UNIX (NetJanus). These experiences and expertise come in handy in helping you understand your crisis management and communication related to cybersecurity issues.
While some may imagine that in any organizational environment, it is only the frontline employees who are to be "trained", sustainable and growing corporations need to start with an enlightened top management who are empathetic to the needs of the people. Therefore, our expertise is in identifying corporate deficiencies such as business process flaws, internal communication lapses, and organizational discrepancies, to build customized and facilitated workshops to help top management (CEOs, vice presidents and directors) lead their teams better. These facilitated programs can be half-day, full-day, or even whole-day brainstorming sessions of great energy. We are open to discuss with you.