Leading pioneer B2B PR agency in Asia Pacific
We are a tech and B2B public relations (PR) pioneer since 1991. Since then, we have gone beyond tech PR to serve B2B, B2c, FMCG (lifestyle and fashion), sports, governments, non-profits, healthcare/medicine, etc.
Reach millions of people through the power of media (print, TV, radio, and online), to build your brand, and gain momentum for sales and profits.
Content (news release, editorial, advertising, blogs, social media)
News distribution (newspapers, magazines, TV, radio, online)
Media and brand monitoring (digital)
Media and mindshare audits
Media training (CEOs and senior executives)
Crisis communication (based on aviation best practices)
Events (media conference, launches, seminars, thematic)
Research (competitive analysis, market research)
Journalism (executive/personality interviews)
Photo/Video (documentaries, livestreaming, video hosting)
Reverse press tours (bringing journalists to Asia)
Online newsroom (we develop & host for you)
Translation (CN<>EN, Bahasa Indonesian, etc)
Brand and Product Evangelism
Data-driven PR (AMEC Barcelona friendly)
Employer branding
What makes us special – tech-savvy, bi-lingual, Asia specialists
We are a full-service digital marketing and PR agency, integrating data-driven PR, digital marketing, and training. Today, clients are looking for brand voice, reputation management, crisis communication, social listening and engagement. We came from a strong media and journalism background (including TV and radio). We are Internet/Digital PR pioneers, are multi-lingual, and have an established network of partners in the Asia Pacific. What's more, we are happy to help you with market entry in this region.
Digital PR Pioneer
As digital PR specialists, we have our own award-winning online newsroom, with reviews, commentaries, and more. And if you need your own newsroom, we can build one for you. We are pioneers even before the phrase "Digital PR" came about. When others were sending paper press releases, we were the FIRST to author and distribute 3.5-inch floppy Interactive Press Kits in 1991.
You can depend on us to protect your reputation through our Crisis Communication programs. And if you are interested in trade events, conferences and webinars on Zoom, we can be your retained partner as well.
Our digital PR expertise is recognized, with the Most Innovative PR Agency of the Year 2018 (Bronze Stevie®), Digital PR Agency of the Year(honorable mention), Most Innovative PR Agency of the Year 2016(Silver Stevie®), Ragan's PR Daily Awards 2015 (Online Newsroom), Best Industry Website 2015 (Bronze Stevie®), Intelligent20 (Finalist).
Lead Digital & PR agency for you
We also act as the lead Digital Marketing and PR agency for our clients in Asia Pacific and the world. We have a network of APAC and global partners, so we can help you reach the Americas, Europe, South East Asia, North Asia (China, Korea, Japan), Australasia, etc.
We also act as the lead Digital Marketing and PR agency for our clients in Asia Pacific and the world. We have a network of APAC and global partners, so we can help you reach the Americas, Europe, South East Asia, North Asia (China, Korea, Japan), Australasia, etc.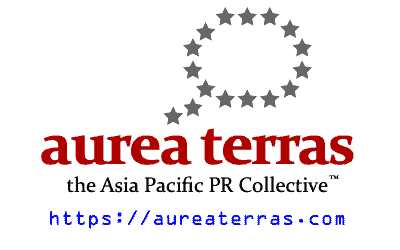 We are host and facilitator to Aurea Terras – the Asia Pacific PR Collective, a loose alliance network of independent PR agency partners throughout Asia Pacific.
We have partners who share the SAME tenure and deep experience as us (20 to 30 over years of experience). We have worked with these colleagues collaborating equitably on various client projects, and have become trusted friends and colleagues. Talk to us if you need ASIA PACIFIC PR and marketing expertise and outreach, including these key places we operate in (as lead agency with trusted partners):
Singapore
Malaysia
Indonesia
Thailand
Vietnam
Philippines
China (PRC, including Hongkong SAR)
Japan
South Korea
Taiwan ROC
Australia & New Zealand
India
Modern Data-Driven PR Measurement
PR has progressed from the antiquated and disputed AVE (advertising value equivalence) to new data-driven measurements (e.g. AMEC Barcelona). Our coverage reports provide the following:
Sample coverage report values
55 Coverage
6,310,000 Viewership (TV)
804,000 Listenership (Radio)
1,440,000 Circulation (Print)
511,000 Est. Coverage Views
120,000,000 Online Readership
7,880 YouTube Views
5,440 Social Shares
51 Avg. Domain Authority
Good communication is just as stimulating as black coffee, and just as hard to sleep after.
Anne Morrow Lindbergh, author and aviator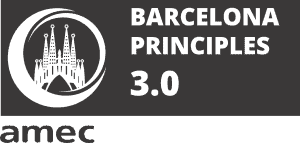 Are you still stuck in measuring advertising equivalence? Try the latest AMEC Barcelona 3.0. Our client media coverage reports are based on the ongoing Barcelona principles.
We are pioneers and experts in serving these industries, so if you belong to one of these, you know who to call!
Cyber security (Internet security, network security, cloud security, mobile security)
Industrial automation and safety (including IoT, industrial controls, robotics)
Healthcare and pharmaceuticals (including hospitals, clinics, supplements, vitamins, skincare, beauty, medical, etc)
Audio-Visual (AV) and Video (including high fidelity or hi-fi, speakers, headphones, headsets, Bluetooth, conferencing, cameras, video cameras, etc)
Fashion and Footwear (including fashion, functional, sports, eyewear, etc)
Food and Beverage (including restaurants and chains)
We REALLY know tech
Our motto is "Making Ideas Work", where we take the most esoteric and complex of technology concepts of our clients, and translate the jargon and principles into something everyone can understand. The media and the people demand news that makes sense and is approachable.
How do we achieve this? Simple. We are geeks too.
Our principal consultant Seamus has been a programmer since the 1970s, and have programmed on the Casio FX, Sinclair ZX, Atari TRS-80, Mac Plus, to UNIX, using languages such as BASIC, Fortran, Cobol, HyperCard, and then onwards to C, Java, Perl, PHP and the rest of the Web languages. We co-developed the NetJanus™ email security appliance in 2003, which featured a MIME filtering software running on UNIX and Sendmail MTA. And we wrote mobile apps, web apps, and developed numerous websites for government agencies, multinational corporations, and startups (some of which are award-winning).